ULTIMATE NIGHT OUT
This package is fantastic if its a special occasion and you need to get all your guests to one place before boarding the Party Bus.
So you and your guests will meet at one of our hand picked bars for some finger food for two hours from 6-8pm, then the party bus will swoop in and pick you up with Red Carpet entrance and get the party really started for a 3 hour Auckland Tour, with Free pizza on board. We can drop you off after the tour either back at your place of residence or back in the CBD of Auckland up to you.
TOPBUS: $2100
PARTY RESCUE: $1700
TIGER LOUNGE: $1500
SAINTS + SINNERS $1500
PROWLER: $1200
VIP NIGHT OUT
Three hours party bus hire tour around Auckland CBD and Takapuna with a few cigarette and photo stops. The party is really on the bus some get some cheesy bus music for some sing a long action or get your Karaoke skills ready to go and jump aboard for a VIP night out.
TOPBUS: $1800
PARTY RESCUE: $1400
TIGER LOUNGE: $1200
SAINTS+ SINNERS : $1200
PROWLER: $900
CRAFT BEER TOUR
On this tour we take you to three craft Beer Breweries so you get to taste and experience the making and distilling of their particular brand of craft beer the last stop is up to Silverdale to the actual brewery where a guided tour and tastings is the finale. Tours run from 12-5pm only. Free PIzza etc is supplied on board, we can organise more food along the way.
TOPBUS: $1800
PARTY RESCUE: $1400
TIGER LOUNGE: $1200
SAINTS + SINNERS: $1200
PROWLER: $1000
KIWIANA ICONIC PUB TOUR
This tour takes you around Auckland to the best of the best in old skool old fashioned pubs, we wizz you up to The iconic Puhoi Pub, then over to the Wade in Silverdale and then The Riverhead Tavern. You will love the pace on this laid back eclectic tour, we will also supply free Pizza etc for the trip, but also a good idea if you pre-order extra food at any one of these fantastic pubs as well.
TOPBUS: $1800
PARTY RESCUE: $1400
TIGER LOUNGE: $1200
SAINTS + SINNERS: $1200
PROWLER: $1000
CORPORATE QUIZ AND TEAM BUILDING TOUR
This tour is so much fun, we can build a quiz and some team building activities around your business and your group with some karaoke chucked in. So no cell phones lets live in the now and get those guests of yours interacting with each other.
The tour is 3 hours long and has a professional quiz master host on board. Free Pizza is included in the package.
TOPBUS: $2100
PARTY RESCUE: $1700
TIGER LOUNGE: $1500
SAINTS + SINNERS: $1500
PROWLER: $1300
Quiz Master / Game Facilitator $100 per hour
VIP TRANSFERS
FOR CONCERTS,DINNERS, SHOWS OR JUST TO GET FROM A TO B IN STYLE WITH HEAPS OF FUN.
A transfer is one hour transfer to your chosen destination, this is great for the safety of your guests so no one has to drink and drive and we can do multiple pick ups and drop offs depending on time allocated. With a few drinks along the way this is the best way to get your party started. We take you for a good hours drive so you get to experience the party bus this can be as little as $15 pp depending on capacity and guests.
TOPBUS: $800 ONE WAY OR $1400 RETURN
PARTY RESCUE: $700 ONE WAY OR $1200 RETURN
TIGER LOUNGE: $600 ONE WAY OR $1000 RETURN
SAINTS + SINNERS: $600 ONE WAY OR $1000 RETURN
PROWLER: $500 ONE WAY OR $800 RETURN
NOTE: ALL THESE PRICES DOUBLE IF YOU HAVE A ONE WAY TRANSFER AFTER 9PM. THIS WILL NOT APPLY TO THOSE WHO HAVE HIRED US AS A RETURN HIRE.
VINEYARD TOURS
5 hour vineyard tours around the beautiful Vineyards of Kumeu with three Vineyards visited from 12-5pm with free pizza etc on board. Each Vineyard requires up front payment of $6 pp to paid in lump sum, seperate from bus hire.
TOPBUS: $1800
PARTY RESCUE: $1400
TIGER LOUNGE: $1200
SAINTS + SINNERS: $1200
PROWLER: $1000
VINEYARD TOURS MATAKANA
5 hour vineyard tours around the beautiful Vineyards of Matakana with three Vineyards visited from 12-5pm with free pizza etc on board. Each Vineyard requires up front payment of $6 pp to paid in lump sum, seperate from bus hire.
TOPBUS: $2100
PARTY RESCUE: $1700
TIGER LOUNGE: $1500
SAINTS + SINNERS: $1500
We also have a number of fun action events like knife throwing, clay pigeon shooting, bubble soccer, go karts, cooking classes, bowling etc that we can help facilitate, you name it we do it.
KIDS PARTIES
We can do kids parties on all of our party buses. Kids love to party just like the adults so we can do themed Fire Man/Woman Parties on our speciality Party Rescue 911 Fire Truck which includes using the Fire Hose, beeping the horn, and putting the siren's on. Tween Parties on the Tiger Lounge or Saints + Sinners in Hamilton with dance floor dancing poles and huge sound system. Kids love to theme into their favourite rock stars for these bus's. Also The Topbus is a great option with two lounges TV screens and Karaoke. You can bring your own food and soda for the kids we are happy with that and of course the cake. We will do a two hour tour or whatever you have in mind for the two hours. Imagine a huge party bus turning up for your kids party that will give them cred at school for sure.
*Party Rescue 911 Fire Truck $700 two hours capacity is 30 10-4pm only
*Tiger Lounge $700two hours capacity is 40 10- 4pm only
* Saints + Sinners $700 two hours capacity is 35 10-4pm only
* Topbus $900 two hours capacity is 40 for SUNDAY only.
You can hire child entertainers to accompany you on the ride too. We have a couple of businesses we use, so call us now for a great kid/tween party
PROGRESSIVE DINNERS
Food, Wine and Transport, well your night doesn't get better than this, our spectacular Progressive Dinners are so popular and are perfect for:
Social Club Groups
Mid Year Parties
Family Get Togethers
Work Xmas Parties
Birthday Parties
This is what you can expect:
We can pick you up from your work or home, in a proper party bus with lights sounds and, toilets ( a must) and of course a fully stocked bar and take you for a scrummy Entree in the beautiful Mission Bay.
Then on to a full main meal at one of our beautiful resturants in either Auckland City or out to the gorgeous Riverhead.
A bit of a boogy on the bus with some drinks along the way then off to the finale of the night. Dessert!
Dessert will be served at Wynyard Quarter at the gorgeous Marvel Grill at North Wharf, with spectacular Auckland views right on the water front.
At the end of the night, we can l either leave you in town to party on, or take you back to your desired address after Dessert and Coffee's that's up to you.
Not only is this tour very Auckland Scenic our guests who do this progressive dinner from out of town just love it. The reason for that is I have chosen only the BEST of Aucklands dining for your experience and the best tour and scenic drive with awesome views.
This will cost you only $110 per person.
This price is only available for over 30 passengers. Please advise if you have less and we can work a price out for you.
Believe It Or Not Quiz Quickie
Why not do a one-hour quickie quiz on the party bus for you and your employee's or mates? Heaps of fun and will separate the dummies from the super competitive know it alls.
We will split you into teams to make sure everyone gets to sit with someone they normally wouldn't to do some very important team building which in turn is a great advantage for your business getting your crew working together on solutions! Magic.
You get a host with:
• Answer booklets, topic sheets
• Experienced quiz host
• Computerised scoring system
• PA system with microphone and sound equipment
Our quizzes deliver:
• An affordable, entertaining event
• A simple format that is easy to follow
• A wide range of topics so everyone contributes
The cost is $550 for one hour quickie. Bus is additional
WEDDING TRANSPORT
This is seriously the best way to organise your guests for your special day, no more relying on lots of different cars and sober drivers to get your guests and or wedding party to your wedding.
We will pick you up then take you to the ceremony, then on to photo's and then of course the all too anticipated Wedding Reception. We can even come and pick you up again at midnight and take you back to your chosen destination. That way no one drinks and drives and it ensures your special guests and family are safe and sound.
We are happy to "dress" your chosen bus in ribbons.
Call us for pricing as it all depends on times you wish to have the buses. The cost is decent as most of your weddings will be daytime hires.
All buses have fully stocked bars on board, toilets (very important) lights, sounds, and entertainment.
Call me now! Lets brain storm your special day.
Sharon
DRAG QUEEN OF QUEENS HOSTESS
How about having a Drag Queen at your next event, whether it's a Hen's Party, Corporate Event or Birthday Party, Trinity ICE will leave you wishing you had brought your tissues!
Introducing the fabulous Trinity Ice standing at 6 foot tall and then heels on top this 6.5 ft beauty Queen of the dessert will leave you in fits of laughter for hours on end, you will need to get your face straightened after witnessing one of Trinity's shows.
She's rude crude and totally unacceptable the more reason to have her at your next party bus experience. Not for the faint-hearted, but all in good humor.
Trinity can facilitate your quiz quickie on the bus @ $170 per hour
Or be your host on board to keep everyone on their toes we will dig up the dirt on your workmates and dish it back up for shifts and giggles. @ $170 per hour
Or she can even do a quick onboard dance for your birthday, stag or hen for @$140 for around 20 mins.
Miss Ice really is too hot to handle you must have her at your next event.
PRICILLA QUEEN OF THE DESERT SHOW
The Priscilla experience is one of the hottest shows only shown on a Party Bus get in quick to experience the wonder of drag entertainment.
Ever wanted to party like a drag queen?
Now you can!
Introducing the ultimate party bus experience Priscilla on wheels
This fabulous experience is decked out with 3 fabulous outrageous drag queens dressed to the nines to host your fabulous event all night long, with three shows when the bus stops in three different Auckland street locations during your party bus tour.
Such songs as Mamma Mia will get you in the mood
Banter and laughs all night these girls will leave you gagging for more.
Caution this show may contain nuts
WAIHEKE TRANSFERS
We have two beautiful VIP Luxury Mercedes Vans they have 6 seats per van, we have Air Con, we are lap dog-friendly, and don't charge extra for using our Eftpos. We can take you on a sightseeing cruise a vineyard tour or transfer you to your destination from the Ferry.
We can organise your hen's or Stag party to various different locations we work with we have packages that will suit you from games to Vineyards to Craft Beer Tours. We can include a lunch in this for you as well. And even accommodation.
Bookings are essential.
AUSTIN POWERS OH BEHAVE BABY
Austin Powers is still shaking his MOJO around the world.
So why not hire him on your next PartyBus Tour!
Since 2000, he's put his talent into action performing as the famous character, Austin Powers.
Gary is the only Authorised individual worldwide by Warner Bros & New Line Cinema in the USA to perform as Austin Powers,
so you know you will have the real deal when Austin performs at your function.
Gary has performed this role on hundreds of occasions since 2000 and still entertains literally thousands of people every year.
Austin Powers aka Gary is a Man of all traits, from dance routines, singing those well-known
60's tunes, to enticing the crowd to participate in events and
capture the energy around them. Whether the audience is 30,000 or even just 20
people, this show is one of the best in the world.
TRADIES SHOUT
Tradies Bosses Shout! Are your boys working hard then they deserve a "shout" well this is one like no other! Imagine a party bus with lingerie models rocking up at your yard to pick the boys up for a two hour city tour, we will feed them for you and we have discounted drinks on board. Here's the deal the cost is $1000 we can take up to 40 boys yup even 40 big ones! Free Pizza, 2 x Girls, and $6 shots, beers and RTD's. Offer is for after work so hours are between 2pm and 9pm Monday to Friday.
CRACK UP QUIZ
Fancy having a good old laugh on the party bus as a TEAM building event or even just for the hell of it.
Well we have this amazing quiz you can have with the bus on one of our 3-5 hour tours, these guys are hilarious and you will remember this event for a long time to come.
Crack-Up Quiz is the funniest quiz around, written and hosted by comedians, you are guaranteed laughs and a fun time!
It's an alternative to the age-old boring quizzes so if you usually struggle with them, then this is for you! Actually, if you spend half of your day on Facebook, you'll probably win!
Cost is $700 for one hour
WAIHEKE TOURS
Waiheke Island has over 20 beautiful vineyards for you to choose from, all are unique in their own way and offer the best gourmet lunches and wines to tantalise your pallet.
Vineyard Tours 5 hours with lunch $185pp with lunch and tastings included
Vineyard Tours 4 hours tastings only $120pp
We go to these Vineyards depending on availability.
Tantalus
Cable Bay
Mudbrick
Te Motu
Obsidian
Wild of Waiheke
Goldies
Jurassic Ridge
WAIHEKE ISLAND TEAM BUILDING
I HAVE THREE FANTASTIC TEAM BUILDING TOURS ON WAIHEKE LOOK HERE ;
Wild on Waiheke Wild Day Out Package.
We will pick you up from the Ferry and boost you up to WOW at 1030 for a day of fun Wine, Craft Beer and Food.
We have options for smaller groups up to 11-20 people or larger groups 20 people plus.
The fun can include, Archery + Guns combo 5-20 team members.
Or Round Robin, 20-180 competitors. Archery Laser and Claybird Shooting Great for the competitive types! A Round Robin event where teams enjoy archery & laser clay bird shooting, PLUS a range of Team Tactics in a fun & competitive event. Lots of fun and very competitive, remember to bring prizes for the prize giving as its off the hook.
Or WILD TAG, An archery-tag combat competition which is a cross between paintball, dodgeball & archery! Eliminate the opposing team and score points to win.
The day would look like this time-wise:
Jump on the Fullers Ferry at your own cost at 0940 Auckland Ferry Terminal
We, Will, pick you all up at taking you to WOW to be checked in by 1015am, to start our first game, then lunch a set menu at 12 pm, then back to Auckland for the 230pm Ferry, but of course if you want to do a few vineyards on the way then let me organise that for you too, dropping you at Ferry around 4-5pm.
The food, the wine, the craft beer, the games the whole buzz of this place is awesome, your group will love this day out we get rave reviews.
COOKING SCHOOL
The class is run by our executive chef, Connie Festa, who will take you through the step-by-step preparation of four delicious courses with a glass of bubbles to start.
The classes are perfect for an office outing, bridal party or even just for a casual get together with friends.
The four courses will include a refreshing winter gazpacho to start, succulent pork tenderloin stuffed with feta and prunes with a béarnaise sauce for main, followed by two beautiful desserts; our signature Merlot poached pear, and decadent chocolate truffle balls.
Of course, there is also plenty of time to sit down with your friends, relax, and enjoy what you have created.
The class starts at 8am and can be scheduled for any day of the week. CALL ME FOR COSTINGS.
ACTION PISTOL SHOOTING
Have a fun filled, exciting day with friends, family or corporate groups at Peacock Sky for team building or just good old fashioned fun! Learn how to handle an authentic replica firearm (airsoft) in a safe learning environment, practice for a while, then test your skills against the clock. Full instruction and safety gear will be provided for all participants.
Carnival Mode
Re-live the fun of an old-school fairground shooting gallery, with a variety of knock down targets. Depending on the size of the group and activity level we can make this event a static challenge focused on accuracy (also suitable for disabled guests), or we can incorporate movement to add an additional challenge. This activity is suitable for all ages.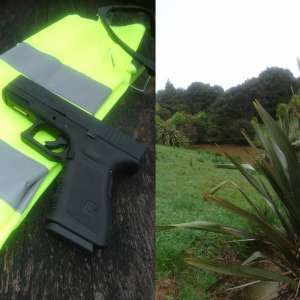 Pricing
4 people $25pp Approx. 45 min. session*
5-10 people $20pp Approx. 60-75 min. session*
11-30 people $15pp Approx. 75-120 min. session* *including 15 minutes of training
Tactical Mode
For more advanced groups we can offer full movement IPSC style courses of fire including moving targets, different shooting positions, use of cover, strong hand / weak hand drills, obstacles including barricades and doors, fully scored and timed against the clock. We can set up a wide range of tactical scenarios including themes like "Hostage Rescue", "Ambush", "Saloon Shoot Out", etc. Call us to discuss available options and any special requests your group may have.
This activity is more suited to advanced players and graduates of our Carnival Mode activity. It may involve assuming kneeling or prone positions and movement across uneven terrain. Suitable footwear is required.